Major investment at Climate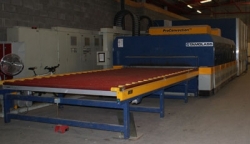 Posted on 25/03/2012
The Glass Systems Group has recently announced a significant expansion and investment at Climate, its conservatory roof division and Vizor Tempered Glass Ltd, its toughening company, both based in Port Talbot.
A fourth tempering furnace has been ordered, a third Lisec automatic arising line has recently been installed, as well as another auto-cutting table with edge deletion. An extension to one of the existing factories has been necessary to accommodate this new investment.
Production Director Martin Rowe explains: "Over the last two years we have seen the rapid emergence of Climate, our conservatory roof division, based here in Port Talbot. In the same period our two sealed unit factories, Glass Systems Ltd and Glass Systems Direct Ltd have continued to grow and an increase in capacity was necessary.
"The new double chambered furnace will temper 4mm glass in 75 seconds and means the site is now capable of tempering 30,000m2 of toughened glass each week. The new furnace will be fed by new cutting and automatic arising machinery.
"By the summer Climate will have reached an output of 3,000 units per week. As we all well know, you cannot compare toughening large specialist roof glass with ordinary smaller window glass. We need the capacity in place to ensure all orders are met efficiently and economically. This new investment is welcome news to me, my staff, and most importantly our customers"
Managing Director Alan Atkinson comments: "2012 will see a total investment again exceeding £1million across our three sites. In order to remain at the forefront of our industry we cannot stand still. We are committed to a year on year investment program that means our 400 plus staff continues to work with the best available resources. This in turn ensures our Customers continue to benefit from the unparalleled service and quality they have come to expect from the UK`s leading sealed unit manufacturer."
For more information call the Climate Sales Office on 01639 823778