TGI open permanent UK establishment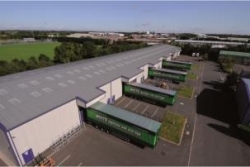 Posted on 25/04/2012
Technoform Glass Insulation (TGI®), global leaders in warm edge technology, has significantly strengthened their position in the UK with the opening of a UK permanent establishment.
The establishment includes UK warehouse and logistics; centrally located offices in Blythe Valley Business Park, Birmingham; and UK VAT registration.
Simon Rawlins, product manager of TGI® comments on the news: "The opening of the UK permanent establishment is a major step forward for TGI®. Customers can now pay for orders in sterling and goods will be shipped from a UK warehouse with a lead time of 2-3 days - quicker in case of emergencies. We have already satisfied several customer orders with delivery times of 1-2 days. Ultimately this makes it far easier for TGI® to do business in the UK and gives us a platform to supply a greater number of customers."
The opening of the UK permanent establishment is the latest phase in TGI®'s ambitious growth plan. The TGI®-Spacer is already widely used in mainland Europe, Asia and America and early signs indicate this success will be mirrored in the UK. Several major UK players have recently adopted the TGI®-Spacer and momentum is beginning to build with more and more customers adopting TGI® into their business.
"IGU manufacturers in the UK are becoming more familiar with the TGI® brand and this has had a positive impact on sales. The opening of the UK permanent establishment gives us a stronger infrastructure and makes TGI® a more appealing supplier to British manufacturers."
Manufactured using a high performance synergy of stainless steel and polypropylene, the German engineered TGI®-Spacer is a bendable warm edge spacer bar that offers the ultimate combination of thermal performance, high productivity and value for money. The bar allows only a very low heat transfer while offering the highest levels of resistance against gas leakage and humidity. It can be processed on all standard bending machines, maintaining the same cycle times which would be achieved with an aluminium spacer bar.