Bifold Network
Tel: 01142 313 133 | Fax: 01142 313 144
www.bifoldnetwork.com
Bamburgh House
Cuthburt Bank Road
Sheffield S6 2HP

Bifold Network Profile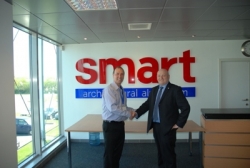 Trade supplier of Smarts Visofold 1000 aluminium bifolds.
Get the tools you need to take on profitable jobs in the bifold and aluminium markets by becoming an approved Bifold Network installer today.
Join now and benefit from:
Affordable, quality aluminium bifold doors - Smarts Visofold 1000 is one of the slimmest and most attractive systems on the market
Expert technical advice along with marketing and installation support
Reliable deliveries across the UK, to your premises or direct to site
Discount packages for loyal customers
Fast, simple quotes through our online bifold builder - No need to fax through an order form
Consumer leads generated through our site
---
Categories
The company is listed under the following categories:
Doors » Aluminium
Doors » Bi-fold
Doors » Coloured
Doors » Commercial
Windows » Aluminium
Windows » Shaped frames
---
Accreditations
Bifold Network have not provided their accreditations.
---
Brand and Trade Names
Bifold Network have not provided their brand/trade names.
---
Keywords
Bifold Network do not have any listed keywords.
Bifold Network Products and Services
Bifold Network have not listed any of their products.
Bifold Network Downloads
Bifold Network have not provided any of their downloadable files.
Bifold Network Videos
Bifold Network have not provided any YouTube videos.