CDW Systems supply vertical sliders for high-profile project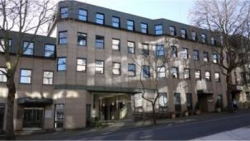 Posted on 21/06/2012
Leading Gloucester based aluminium door and window fabricator CDW Systems Ltd recently worked together with Guernsey Glass and Window Company to supply and install a large quantity of aluminium vertical sliders and commercial doors at a high-profile development on the island of Guernsey.
CDW Systems Ltd manufactured and supplied 173 vertical sliders and a number of commercial doors to Guernsey Glass and Window Company who installed them as part of a renovation of the French owned SG Hambros bank. The installations were subject to the to the condition that all the windows and doors needed to be powder coated in a bronze finish.
In order to win the contract to supply the high-profile project, the highest standards had to be met, with the project organisers stressing that the supplier would need to have market leading products and offer excellent service, flexibility and a quick turnaround.
Managing Director Jerry Webb is delighted CDW Systems met stringent criteria once again: "We're delighted that our aluminium vertical sliders and commercial doors have been used in another high-profile commercial project. Aluminium VS's were specified at this project because of their superior looks, inherent strength, energy efficient qualities and slimmer sightlines which allow extra light to enter the room and improve the window's solar gain."
The project was successfully completed on budget and on-time and Guernsey Glass and Window Company's Sales Manager Jason Hallet comments on another successful collaboration with CDW Systems: "We have worked with CDW for around twenty years on a number of high-profile commercial projects and have more in the pipeline over the coming year. They're the ideal supplier to work with on a commercial project because they are so customer focused and the quality of product and wide colour choice they offer ensures we keep on winning high-profile contracts such as the SG Hambros bank renovation."
CDW Systems manufacture a wide range of windows, doors, shop fronts and curtain walling using some of the leading aluminium profile systems on the market today including Smarts and SAPA.
The specialist aluminium fabricator recently marked its 21st birthday with the launch of the EasySecure door, which is an evolution of one of their best-selling products, the Sapa Stormframe Easyway door. Developments to security and performance mean CDW Systems is the only fabricator in the country supplying EasySecure, giving their trade customers a stand-out product in what remains a competitive market place.