Growth continues at specialist aluminium fabricator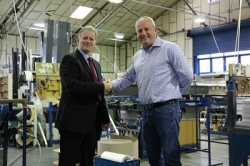 Posted on 13/07/2017
A specialist manufacturing company is celebrating yet another strong period of trading as it looks to end the year as a record-breaker.
In its last fiscal year, CDW Systems put in its best trading performance which saw the group turnover increase by 19%, resulting in it hitting the £10m mark for the first time in its history.
Directors at the group have revealed that they are now on course to surpass last year's trading figures, with the launch of new products contributing to this.
Mike Davis, who is Managing Director, comments: "The climate remains tough as we have had consumer uncertainty take hold following the General Election, as well as Brexit and other external factors.
"But the world doesn't stop turning and many consumers are still spending on home improvements and for companies offering the very best products and service, growth is more than possible. We've been in business for more than twenty- five years and we've always been determined to never stand still. This means innovating, always developing and launching new products."
Mike explained that the company had added Reynaers aluminium lift and slide patio door sets to its product portfolio this year, and the products had proved popular with installers.
The company has also grown its footprint in the UK, taking market share in both the north and south of the UK.
Jerry Webb, who is Group Chairman, comments: "Under Mike and the team's leadership, CDW Systems continues to grow, working on a diverse range of projects with both installers and architects. The challenge we've set ourselves is to keep growing the business; improving our infrastructure and operations and supporting our customer base to the best of our abilities. We're excited about the future."
CDW Systems is also looking to extend its factory to support the continued growth as well as employing new people to work at its headquarters in Gloucester.