New Managing Director at CDW Systems Limited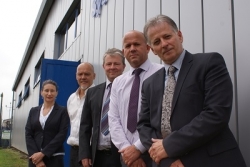 Posted on 15/11/2016
Mike Davis has been unveiled as the new Managing Director of Gloucester-based aluminium specialists CDW Systems Limited.
He takes over from Jerry Webb, who becomes Group Chairman. Mike will be focusing on driving the business forward in the coming months and years.
He has been working in the industry since the 1980s and has been employed at CDW Systems for 11 years, where he joined as Sales Administration Manager before rising through the ranks to become a Director.
He will be responsible for overseeing CDW's operational tasks; as well as the day-to-day management of the business.
Mike comments: "During my time at CDW, I have seen the business go from strength to strength in the commercial market and, more recently, become the front runner in the revived domestic aluminium market. I'm excited to be given this opportunity at such a pivotal time for CDW and I aim to continue Jerry's excellent work and play my part to ensure the continued success of the company.
"I am looking to grow the business with the help of our existing customer base, new business across the UK and by launching new, innovative products that will really benefit installers. As we expand, I am also keen to uphold our long-standing company values such as our unrivalled customer service as well as our ongoing commitment to local employment."
The change comes at a good time for CDW as the business recently celebrated a record year of trading, which saw group turnover increase by 19% on the same period as last year hitting £10m turnover for the first time in the business' history.
This landmark milestone follows year on year growth at the company and new Group Chairman Jerry Webb attributes the increase in sales to its existing customer base boosting its order books and ordering more aluminium windows, doors and specialist products.
Talking about his new role, Jerry stresses that he is not stepping down or moving aside and will still connect with key contacts and customers.
He comments: "My focus now is working on, as well as in, the business. I will review the strategic direction of the group and identify new opportunities in new markets. I am confident Mike will do an excellent job in running the business and helping CDW scale new heights on our journey to become an unrelenting force in the aluminium market."
CDW Systems has been operating for twenty-four years as an aluminium specialist, manufacturing and supplying a wide range of windows, doors and curtain walling, using some of the leading aluminium profile systems on the market.