Number of aluminium installers continues to rise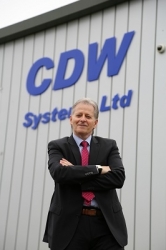 Posted on 31/07/2017
The number of installers offering aluminium products has grown by 41% over the past five years and this number is expected to continue to increase. This is according to a recent report by the Council for Aluminium Building (CAB).
Once seen as a strictly commercial material, aluminium has achieved great success in the residential market as more homeowners become aware of the benefits of aluminium windows and doors such as slim sightlines, high performance and a wide range of colour finishes.
Aluminium is now considered superior or at least equal to PVCu in terms of energy efficiency, which has seen the material appeal to energy conscious consumers.
Spurred on also in part by aspirational home improvement shows such as Grand Designs which showcase the aesthetic qualities of the material, there has been a surge of premium aluminium products hitting the market.
Mike Davis, Managing Director of CDW Systems, comments: "There are plenty of opportunities for aluminium in the UK, both commercially and residentially. Our customers are taking on more high-end projects such as installations in restaurants and blocks of flats.
"We have identified aluminium bi-fold and patio doors as particularly hot products and earlier this year we introduced Reynaers Aluminium lift and slide patio doors to help installers capitalise on demand. The doors have proved a big hit with installers and homeowners alike."
Mike says reduced lead times on aluminium and more flexibility on colours and configurations means more installers are turning to offering aluminium to help boost sales.
However, he warns that it's important for installers to choose a supplier who can offer the expertise and support they need.
He comments: "Lots of companies were quick to jump on the aluminium manufacturing bandwagon but they won't necessarily have the skills or knowledge to meet customer expectations.
"Installers need to ensure they are working with companies that have the expertise required to fabricate aluminium, otherwise this could lead to problems such as poor quality and slow lead times later."