Premium door system boosts sales at aluminium specialist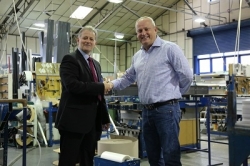 Posted on 02/06/2017
A director at CDW Systems says strong demand for its latest premium product has contributed to strong sales at the company in recent months.
Installers keen to target the high-end of the market are turning to CDW's premium aluminium door range. Demand for these products is at an all-time high and it is predicted to continue as aluminium continues to gain market share in the commercial and domestic sectors.
At the end of last year, CDW partnered with Reynaers to launch its lift and slide patio doors and sliding folding doors, which are aimed at the high-end residential and commercial aluminium markets.
Managing Director Mike Davis of CDW Systems, says he expected the new range to be popular but not quite as popular as it has been since it hit the market.
He comments: "The response has been overwhelming. Clearly there is a market for premium door systems and our new range is helping installers clinch the sale at the top end of the market."
Mike goes on to say that the products are being specified for are a mix of commercial and residential projects.
He comments: "Our customers are involved in a lot of high-end installations such as restaurants and blocks of flats and there is a lot of opportunity moving forwards. High demand for single occupancy housing is seeing an increase in multi-storey residential developments across the UK, and the replacement market is still going strong as homeowners look to aluminium as a viable alternative to PVCu."
"Most importantly, it is encouraging to see the industry is still building and that developer and consumer confidence is still there."
CDW systems has been operating for twenty-five years as an aluminium specialist, manufacturing and supplying a wide range of windows, doors, shop fronts and curtain walling, using some of the leading aluminium profile systems on the market.