Richard celebrates 30 years at SEH BAC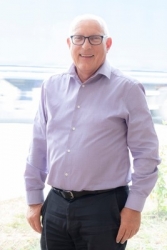 Posted on 07/08/2018
Long-serving employee Richard Rowe is celebrating 30 years at Ipswich-based home improvement firm SEH BAC – and in that time he has seen the award-winning company grow from humble beginnings into one of the UK's top installers.
The keen golfer and lifelong DIYer, who is currently a Technical Manager in the Conservatory Department, joined SEH Windows and Doors Ltd, as the company was then known, as a window and door surveyor in 1988.
Richard explained: "After joining, I soon progressed to Installation Manager before I was promoted to Operations Manager. I then decided on a career change in 2005 and became Technical Manager responsible for IT, HR, Investors in People and Health and Safety.
"When the financial crisis hit in 2008 I changed back to a conservatory surveyor. Then, after a couple of years, this changed again to Technical Manager in charge of conservatories and now I work part-time and fill in the gaps in the technical department for conservatories."
While Richard has had a varied career at SEH BAC, he has also seen first-hand how the company has grown over the decades.
Richard explained: "From starting in small premises in Woodbridge Road, Ipswich, to now having 15 high-class show centres across the whole of the South East of England, the company has always grown and expanded steadily over the years and put the quality of work as the main goal. We know that customers are very willing to pay just that bit more for this service."
And with 30 years behind him, Richard is also perfectly placed to assess the changes in the industry: "The core window replacement industry has not changed too much over the years except that legislation has greatly increased and products have got more sophisticated. One major new product that has been introduced is the Bi-fold door and this has brought about a great deal of extra contracts, often involving large lintel works.
"The conservatory market, however, has enjoyed a massive change and has evolved from simple glazed boxes on the rear of houses, into impressive permanent structures that are more in line with traditional extensions. Structural steelwork has increased within the fabric of the structures enabling modern buildings to be designed with orangery type glazed roof lanterns to be added."
When not working, Richard has his hands full all year round trying to keep his five grandchildren and four grandchildren inherited from his two daughter's partners in check. But, he has managed to keep a work/life balance over the past 30 years and has thoroughly enjoyed working at SEH BAC.
"SEH BAC has a very relaxed attitude to work within the office area but a very professional and caring attitude is given to all customers. Our directors have invested in critical software programs that, in the main, really work and assist with work practices. Staff are generally left to work out the best solutions with the final direction taken by senior personnel."
For more information, call 0808 159 6310 or visit www.sehbac.com.