SEH BAC begins renovation work on competition winning West Cliff Theatre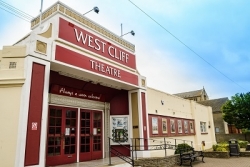 Posted on 15/05/2017
Local home improvement specialists SEH BAC has begun the transformation of the winning community building from their £10,000 giveaway.
Work has started on the West Cliff Theatre in Clacton-on-Sea, who were chosen by SEH BAC as the winners of their community competition and the £10,000 worth of windows and doors. SEH BAC are replacing the existing windows and doors in the theatre with modern, energy efficient alternatives, which will help to considerably reduce the running costs of the theatre.
Completely self-funded with all grants ceased and mainly run by volunteers, the West Cliff Theatre is in dire need of renovation to help them keep their doors open. The theatre was founded in 1894 and welcomes 35,000 visitors every year. In an effort to secure more funds, the theatre even established their own charity shop in Holland-on-Sea.
"It's great to see our installers arrive at the West Cliff Theatre to begin the important work of ensuring this much-loved staple of the Clacton community can continue to operate for generations to come," comments John Savage, SEH BAC Managing Director. "The community giveaway was launched to commemorate our 45-years of trading across the South-East and to recognise a community building that was in desperate need of our help."
"Buildings like this are truly important to the local area and to our customers, so we are absolutely delighted that we can give the West Cliff Theatre a new lease of life. We can't wait to see the result!"