SEH BAC wins NHIC community benefit award for West Cliff Theatre transforma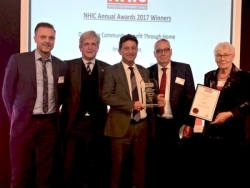 Posted on 20/11/2017
After the successful transformation of the West Cliff Theatre in Clacton-on-Sea, established installer SEH BAC has won a prestigious award from the National Home Improvement Council (NHIC).
The firm which specialises in windows, doors and conservatories was named winners of the coveted 'Delivering Community Benefit Through Home Improvement' Award. The West Cliff Theatre was the winner of SEH BAC's Community Giveaway competition, receiving £10,000 worth of new windows and a much-needed new lease of life.
"We are incredibly proud to win this prestigious award from the NHIC – our third in four years," comments John Savage, Managing Director of SEH BAC. "For us to see the fantastic West Cliff Theatre restored to its former glory and ready to entertain many more generations to come, was already a special reward. We are proud to not only support our customers through our home improvements, but to also support important and cherished community buildings just like West Cliff."
The firm, which is part of Suffolk-based One Group Construction, a £130M turnover group of companies which complete major construction projects, currently holds two NHIC Awards. SEH BAC picked up the Best Glazing Project Award in 2014 and the 2015 Double Glazing with Community Benefit Award.
The Community Giveaway competition was designed to find a community building in desperate need of SEH BAC's help. Receiving no government funding and mainly run by volunteers and donations, The West Cliff Theatre in Clacton was a worthy winner. SEH BAC replaced the dilapidated windows of the theatre with brand-new uPVC alternatives, helping to reduce its running costs and give a vital facelift.
"It's been an incredible year for us as we celebrate 45 years of trading across the South-East," adds John. "Not only have we helped West Cliff keep its doors open, we've received recognition from the leading council on home improvements. That's not forgetting opening our new showcentre in Colchester – our 16th across the region and a record four nominations at The G Awards. We can't believe the year we've had!"
In addition to windows, doors and conservatories, SEH BAC specialises in timber-effect windows, replacement conservatory roofs, single-storey extensions and luxury orangeries. The firm's 16 showcentres can be found across the South-East, East Anglia and the Home Counties.
For more information, call 0808 159 6310 or visit www.sehbac.com