Alex Trade Frames add Guardian Warm Roofs to its product portfolio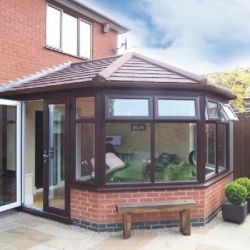 Posted on 10/07/2017
Alex Trade Frames – Stockport's No.1 supplier of high quality of double glazing products for the trade – are once again fleshing out their catalogue, this time in the form the Guardian Warm Roof. Often considered the pinnacle of tiled roofing solutions when it comes to thermal retention and style, it's yet another tool in the family-run fabricator's already effective product arsenal.
The decision to make this addition came as an easy one for the team at Alex Trade, a sign of their ability to recognise where the home improvement industry is going. And more importantly, the kinds of high quality products tradesmen and fitters are seeking to install. With Building Control approval as standard and a swift installation time, the Guardian Warm Roof is widely regarded as every B2C installer's dream, pre-assembled upon supply when fabricated by Alex Trade.
Associate Director for Alex Trade Frames Lauren Tutton expressed:
"There's a reason that the Alexander Windows family continues to grow more and more each year, and it's due to our renowned ability to listen to trade customer needs while also predicting likely market trends. We've already built up a reputation for supplying some of the industry's leading window, door, and conservatory systems in Kömmerling, Ultraframe, and now Guardian. It's what helps give us the edge over rival suppliers in the North West."
Guardian Warm Roofs provide excellent thermal efficiency, come with a 20 year wear-resistant guarantee, and are available from Alex Trade Frames now. Installers can expect the highest quality products and exceedingly quick turnaround times every time.
For more information about Alex Trade Frames' products, services, and why they should be your preferred choice of Guardian Warm Roof supplier, please visit http://www.alextradeframes.com/