Astraseal branches out with aluminium verandas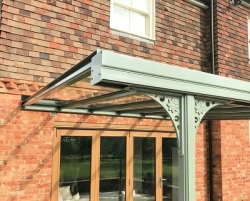 Posted on 27/06/2017
If recently adding Eurocell's new Skypod Acute to their range wasn't enough, fast-growing fabricator Astraseal has now expanded its industry-leading uPVC and aluminium range to include premium verandas from the Milwood Group.
Continuing their commitment to a diverse product range, which provides installers with many routes to market, Astraseal now offers Milwood's complete range of aluminium verandas, carports and canopies. Designed and manufactured in the UK using high-quality aluminium, the veranda systems prove very popular among consumers, looking to add value to their property and create practical outdoor living spaces.
"At Astraseal, we are always trying to put our trade customers in the strongest position and to help them avoid dual-sourcing," comments Zac Nedimovic, Astraseal's Sales and Marketing Manager. "Adding Milwood's aluminium veranda systems lets us provide our installer clients with a quality collection of products which are easy to fit and can help both upsell and win new business."
The veranda systems are available in a wide range of RAL colours and with either triple wall polycarbonate or glazed roof panels. Each veranda is available with a pitch between 2.5 and 45 degrees and projections of up to six metres, accommodating any property or garden size.