Astraseal celebrates RECORD traffic to Astraseal Downloads website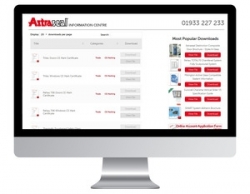 Posted on 07/03/2018
Astraseal, one of the UK's most respected trade and commercial fabricators has seen unprecedented traffic to Astraseal Downloads (www.astrasealdownloads.com) – the firm's powerful, online 'Information Centre'.
Combining product brochures, profile prints, technical specifications and installation guides from across the industry's systems houses and suppliers, the free-to-access resource has seen thousands of industry professionals navigate to the site and download resources since the beginning of the year.
"Astraseal Downloads was created to alleviate the sheer number of calls I was receiving, asking for particular documents or brochures. Now, we can point them towards our Downloads page which provides instant, free access to absolutely everything they could possibly need," comments Zac Nedimovic, Sales and Marketing Manager at Astraseal.
"It's fantastic to see our customers and even those who don't buy from Astraseal using our Downloads page. We could have introduced a pay-wall or forced our customers to use a log-in to access the information, but that's not the Astraseal way. We've built our reputation on delivering an exceptional service across our entire operation, and that includes making our Downloads centre as easy to use and accessible as possible for already time-pressured professionals."
The firm, which specialises in a complete range of uPVC and aluminium products is constantly adding new documents to its 'Information Centre'. Users can search for documents using a keyword search, and then view online or download to keep for complete ease of use.
"We want to create the strongest possible resource for the entire industry, bringing together valuable product information from all the major manufacturers, suppliers and systems houses," adds Zac. "If there are any suppliers who would like to add documents to our Downloads site, please don't hesitate to get in contact with me."
With one of the biggest portfolios in the industry, Astraseal has built a strong reputation for high-quality aluminium and uPVC products including windows, doors and conservatories. For over 30-years, operating from Wellingborough, Northamptonshire, Astraseal's ethos has been to offer exceptional products with customer service that goes above and beyond.
For more information call Astraseal on 01933 227233 or visit www.astraseal.co.uk