Astraseal insight helps Richmond Windows complete fire door installation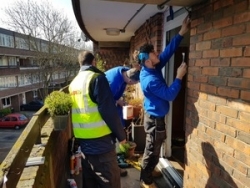 Posted on 13/04/2018
With a well-established reputation for helping customers break into new markets, experienced trade and commercial fabricator Astraseal has helped Surrey-based installers Richmond Windows complete their first fire door installation.
Not only did Astraseal help specify the right product, the Wellingborough-based fabricator sent one of their own surveyors to assist in what turned out to be a complicated survey. Once the door was delivered, Astraseal's engineers joined the Richmond team on site to show the fitters exactly how the fire door needs to be installed, and the correct materials to use.
"The team at Richmond Windows encountered a problem facing many ambitious installers; they see increasing demand for fire-rated products but feel they lack the experience to confidently enter the market," comments Colin Stanley, Operations Director at Astraseal. "We are delighted that we could assist a long-standing customer as part of our Assisted Installation Service and use our decades of experience to help them service those fire-rated enquiries and ultimately win new business."
"The tragedy of Grenfell Tower has shown how imperative it is to have quality fire-rated products, but also that they are installed correctly. It's therefore understandable that businesses have trepidations about completing those types of installations. That's why we have not only developed a full range of dependable, fully-certified fire-rated products but offer this assisted installation service for our customers – a service available across our entire range of products."
Astraseal offers a complete range of fire-rated products including FD30 and FD60 fire doors. Not only do both solutions comply with FIRAS assessment, PAS24 and Approved Document Q, the FD60 fire door is manufactured using the highly-durable FireFrame from Winkhaus.
Astraseal enhanced the range last year by becoming the first fabricator to manufacture a 60-minute fixed fire window. Manufactured in both single and double fixed pane configurations using FireFrame, the 60-minute fire window joined Astraseal's RAUFERNO and Ecoframe uPVC 30-minute fire window system.
"We are really grateful for the help and support of Astraseal in completing this complex fire-rated project," adds Patrick Kilgallon, Managing Director of Richmond Windows. "Whilst we have extensive experience installing windows, doors and conservatories in all materials, we are still relatively new to fire-rated products. Thanks to Astraseal's guidance, the fire door installation ran smoothly and has given us a great platform to explore more fire door installations in the future. The full support of our supplier is a great asset to have, and it's been a key driver behind our successful relationship with Astraseal."
With one of the biggest portfolios in the industry, Astraseal has built a strong reputation for high-quality aluminium and uPVC products including windows, doors and conservatories. For over 30-years, operating from Wellingborough, Northamptonshire, Astraseal's ethos has been to offer exceptional products with customer service that goes above and beyond.
For more information call Astraseal on 01933 227233 or visit www.astraseal.co.uk