Astraseal unveils new doors of Distinction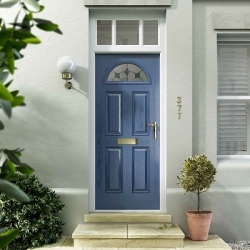 Posted on 21/08/2017
Fast-growing Astraseal has extensively expanded its offering of high-performance composite doors made in-house with the market-leading Distinction Doors slab.
Boasting a stunning woodgrain finish based on real oak and available in an extensive range of over 30 styles and 40 colours, the Distinction slab is the most authentic and aesthetically versatile on the market.
Thanks to its rigid polymer sub-frame and high-density, high-impact resistant GRP skin, warping is a thing of the past. What's more, it offers exceptional security, and a track record of achieving PAS24:2016 and Secured by Design accreditation.
A Distinction slab is also more than 17% more thermally efficient than solid and timber panelled alternatives and comes with a 25-year warranty.
"It's no surprise that one in four doors installed in the UK now uses a Distinction slab," comments Astraseal marketing manager Zac Nedimovic. "It's a fantastic product, it excels on all fronts, and that makes it a perfect match for Astraseal – a business committed to offering trade customers the highest quality windows, doors and conservatories, and the sort of exceptional service that helps them grow.
"Trade customers can also benefit from our new online door designer application, which you can visit at www.tradedoordesigner.com. It's unbranded, so you can send your prospects to it to design their own doors, and even upload a picture of their own house so they can see how the product would look after it had been installed."
Astraseal also incorporates the Distinction slab in its extensive range of 30-minute and 60-minute fire doors, both of which are fully compliant with BS476 Parts 20 and 22.
The firm's FD30 is made with the Winkhaus Ecoframe outerframe, while the FD60 is made with a bespoke timber outerframe. Both doors are available in a range of colours and styles, including sidelights.