New Year, new machinery investment at Astraseal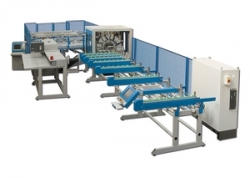 Posted on 11/01/2018
After a successful 2017, which saw much investment, innovation and product development from the fabricator, Wellingborough-based Astraseal has kicked off the New Year by advancing their machining capabilities.
The firm which specialises in both uPVC and aluminium has invested in yet another Stuga machine – specifically the ZX5, the British firm's flagship machining centre. Launched at The FIT Show 2017, the ZX5 has a capacity to manufacture a minimum of 800 windows per week and joins Astraseal's existing Stuga machines.
"At Astraseal, we understand that consistent investment is just as important as product development, whether it's investing in our people, our facilities, or in this case, our manufacturing," comments Colin Stanley, Astraseal's Operations Director. "We're delighted to add Stuga's ZX5 machining centre which allows us to not only increase our output and reduce our lead times but more importantly maintain our high-levels of quality."
Taking advantage of a 360-degree rotary tooling system rather than a conventional fixed head system, the ZX5 is a flexible, sophisticated sawing and machining centre. The new rotary system allows for limitless capabilities and effectively streamlines machining cycles, with separate sawing and machining modules working in tandem.
The ZX5 also features the innovative 'Tru-Loc' gripping system, which ensures the accuracy of every cut or notch by eliminating grip slip. This system means the ZX5 can make complex 45 and 90-degree cuts and pinpoint 'V' and 'Y' notches on both sides of the frame or transom profile with complete precision every time.
"It's great to start the year with a bang by taking our operation to the next level," adds Colin. "The new machinery is just one of many additions and developments we plan to make over the coming year as we move forward and look to best support our valued trade and commercial customers across the country."
With one of the biggest portfolios in the industry, Astraseal has built a strong reputation for high-quality aluminium and uPVC products including windows, doors and conservatories. For over 30-years, operating from Wellingborough, Northamptonshire, Astraseal's ethos has been to offer exceptional products with customer service that goes above and beyond.
For more information call Astraseal on 01933 227233 or visit www.astraseal.co.uk