elumatec expands in the Emerald Isle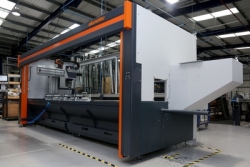 Posted on 31/01/2018
Rocketing demand in the Irish market is fuelling elumatec's ongoing growth.
Recent months have seen two major Irish fabricators purchase some of the world-leading manufacturer's outstanding profile machining products.
County Westmeath fabricator Wright Windows has built an enviable reputation over forty years of producing quality PVC-U, aluminium, timber and timber-alternative windows, often using Sturtz and elumatec machinery.
Now, the respected firm has purchased a state-of-the-art Sturtz FlexCentre from elumatec. Boasting a 6-axis machining module and a triple sawing unit, this highly advanced CNC for PVC-U profile is one of the most versatile products in its class, capable of automatically preloading and offloading profile bars to maximise efficiency and productivity also due to the increase demand for their aluminium products they have purchased an SBZ140 adding to their existing SBZ130 CNC machining centre .
Another long-standing elumatec customer, County Meath-based Glass and A.L.U. CAD, is a major aluminium fabricator who produce high volumes of windows, doors and curtain walling, the firm has recently purchased a cutting-edge SBZ 628 model, renowned for its precision and versatility adding this machine to its existing SBZ151 and SBZ130 line of CNC machines.
CPD Machinery Sales are elumatec's distributor in Ireland. CPD Sales Director Gerry Power commented: "With the economic upturn in Ireland, and fabricators facing fiercer competition than ever before, Irish window manufacturers are on the look-out for the most robust and reliable machinery products that can take them to the next level and ramp up productivity while cutting costs and maintaining quality.
"That's translating into heightened interest in elumatec, and the huge range of world-leading profile machining solutions it has to offer. Increasingly, we're seeing fabricators enquire about elumatec not just because of its reputation for excellent machines, but for the extensive range of software support it can offer too.
"Today, it's the software, not the machines, that make the biggest difference to the quality and the amount of product a fabricator can make – and that's why elumatec has invested so extensively in its software division, elusoft.
"The company employs 25 full-time computer programmers who are constantly striving to improve the software packages we provide – which in turn allows their machinery products to perform to an even higher standard."
Founded in 1928, elumatec has grown into the world's biggest aluminium machinery company over its eighty years in business. Winning a global reputation for quality, innovation and excellence in design, elumatec has a presence in dozens of countries around the world, and across all five continents.
For more information call 01908 580 800 or visit www.elumatec.co.uk