elumatec expands uPVC division with experienced National Sales Manager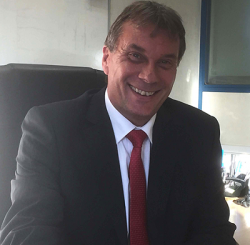 Posted on 10/08/2017
World-leading machinery manufacturer elumatec has bolstered its uPVC division with the appointment of experienced National Sales Manager Adrian Sunter.
Back in 2015, elumatec signed a landmark deal with German machining experts Sturtz, which saw the firm begin offering an extensive range of Sturtz uPVC machining products.
As National Sales Manager for uPVC, Adrian will be charged with promoting elumatec's Sturtz range to fabricators throughout the UK.
Adrian joins the firm after sixteen years spent working within the uPVC fenestration sector, and more than a decade working in the wider building products sector.
"We're delighted to have someone with Adrian's experience joining the team," commented elumatec Managing Director Phil Heavey. "His knowledge of the industry and contacts all around the country will be invaluable assets as we continue to grow the uPVC side of our business."
Adrian commented: "It's fantastic to be joining elumatec at such an exciting time for the business. After years dominating the aluminium machining market, elumatec has established a world-leading reputation for quality, efficiency and reliability - which, combined with a superb range of machining products from Sturtz, leaves us in an excellent position to make inroads into the uPVC sector."
Adrian has two children and enjoys motor-racing and football. An ex-player himself, Adrian has a Level 2 football coaching badge, which he uses when coaching under-16s and the Morecambe FC Academy.