German Design Award win for elumatec's supercharged CNC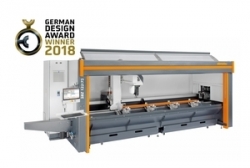 Posted on 11/01/2018
elumatec's best-in-class SBZ 122/75 profile machining centre has won a much sought-after German Design Award.
Overseen by the German Design Council, the GDAs exist to discover, celebrate and publicise world-class design in all fields of the economy.
Each year, thousands of businesses across Germany enter what's become one of the country's most prestigious award schemes, and a panel of expert judges whittle down submissions to arrive at a handful of lucky winners.
The jury hailed the phenomenally successful elumatec CNC for its speed, versatility and unparalleled efficiency. While praising its outstanding acceleration and small footprint, they were most impressed by its innovative drive and control technology that allows manufacturers to reduce energy consumption by up to 30%.
"This machine is ergonomically well thought out, making operation and cleaning a breeze," the judges concluded. "It also requires relatively little space."
Phil Heavey, elumatec Managing Director commented: "It goes without saying – we're absolutely delighted to win such a prestigious award. Not just in Germany, but throughout Europe and the wider world, the German Design Awards are synonymous with manufacturing excellence and world-leading innovation. It's a resounding vote of confidence in elumatec, and our fantastic product design team."
The SBZ 122/75 is the most advanced of elumatec's aluminium CNC machining centres, boasting a versatile 5-axis design, inclined beds for easier access and waste disposal, and a protective hood that shields operators from flying debris, saving space by letting them work right up close to the machine even while it's in operation.
Founded in 1928, elumatec has grown into the world's biggest aluminium machinery company over their almost ninety years in business. Winning a global reputation for quality, innovation and excellence in design, elumatec has a presence in dozens of countries around the world, and across all five continents.
For more information call 01908 580 800 or visit www.elumatec.co.uk