World-leading machinery manufacturer gets FIT for 2019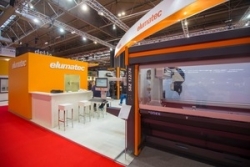 Posted on 16/05/2018
Machinery manufacturer elumatec has become the latest big-name brand to sign up for the FIT Show 2019.
The respected firm will bring a host of cutting-edge machinery solutions to Birmingham's NEC between the 21st and 23rd of May 2019.
Recent years have seen elumatec become a regular FIT Show fixture. Back in 2017, the firm used the event to unveil an extensive range of high-tech products, including cutting and machining centres, corner cleaners and welders.
In 2019, it will be looking to go one better, with a selection of products that can help fabricators become quicker, leaner and more profitable, as elumatec Managing Director Phil Heavey explains:
"The FIT Show is always a hugely valuable experience for us. It's not just a fantastic opportunity to showcase new products and raise our profile in the industry – it's also a chance to gauge the mood of the industry and get a sense of where it's heading.
"At this early stage, we don't know exactly which products we'll be exhibiting – but you can rest assured that they'll be at the forefront of manufacturing innovation. We hope to see as many people as possible at Stand G20 in May 2019!"
2018 has already been an extremely busy year for the respected firm, seeing it celebrate an amazing 90 years in business. Back in March, it showcased at Fensterbau, the world's biggest fenestration event. It has also launched a special ninetieth-anniversary edition of its SBZ 151 CNC machine.
Founded in 1928, elumatec has grown into the world's biggest aluminium machinery company over their almost ninety years in business. Winning a global reputation for quality, innovation and excellence in design, elumatec has a presence in dozens of countries around the world, and across all five continents.
For more information call 01908 580 800 or visit www.elumatec.co.uk