Hazlemere gets a First at Reading University with major refurb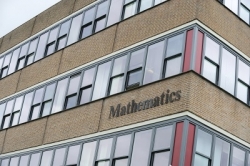 Posted on 10/11/2016
Meeting complex briefs and exceeding expectations for three decades, Hazlemere is one of the region's longest-serving, most highly respected suppliers of premium architectural aluminium.
Over more than thirty years, the firm has developed an enviable reputation for its expertise in the education sector – and now, Hazlemere has completed a major refurbishment project on buildings owned by the University of Reading.
Installation work worth £375k was carried out on the University's maths block, which was fitted with multiple Sapa VS windows equipped with tilt functionality for easy cleaning, and special locking catches to prevent unauthorised use.
Hazlemere Commercial also completed work amounting to £340k on the university's JJ Thompson building - fitting large Sapa pivot windows equipped with heavy-duty hardware to cope with weights well above normal size limitations, as well as several commercial doors, and huge entrance screens that required cranes to lift 200kg panes of glass into position. Hazelmere also redecorated the building's existing timber cladding.
Hazlemere Commercial Sales Director Tony Beale commented: "This was a challenging but hugely rewarding project for us, on which we not only manufactured and installed all the products used, but also acted as principal contractor across both sites. It was a genuine pleasure working with the University of Reading, and we hope to do again in future."