Chelsea luxury development features Hueck window and door systems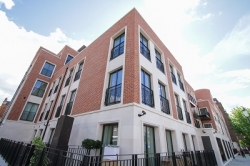 Posted on 29/07/2015
Situated in the heart of Chelsea, the Cheyne Terrace residential development is amongst the most luxurious pieces of real estate in London, and features high performance aluminium windows and doors, from Hueck's Lambda product range.
Developed by Native Land and Grosvenor, with Sir Robert McAlpine as the main contractor, the project, which was known as Chelsea Manor before completion, comprises 26 apartments, including a penthouse and nine duplexes, as well as 16 lateral flats, in one of the most desirable areas of the City.
The elegant building was designed by MSMR Architects, who specialise in prime central London residential property, with Hueck UK's involvement in the design and specification of the windows and doors.
The apartments benefit from thermally insulated Lambda 77 L IF side hung and fixed casement windows, many of which provide floor-to-ceiling glazed areas. The Lambda 77 L French door sets offer smooth and effortless operation, and enable each apartment's access to its own impressive terrace-garden.
"The specification of our Lambda windows and doors was driven by excellent performances all-round," said project development director, Leon Friend of Hueck UK.
"Naturally, the aesthetic requirements for this project were very high, and we were able to accommodate these with our slim, attractive Lambda systems finished with an Anthracite Grey polyester powder coating, to compliment both the interior design of each apartment, as well as the external appearance of this elegant building."
"However, other factors such as thermal and weather performances, acoustic insulation, as well as safety and security, were crucial in the specification process," added Leon.
With a frame U-value as low as 1.0 W/(m²×K) for the windows, and 1.6 W/(m²×K) for the doors sets, and a Burglar Resistance level up to RC3, and WK3 respectively, Hueck's Lambda range met all the performance requirements for this project.
Windows can accommodate glass thicknesses from 20mm to 46mm, and a leaf weight of maximum 170Kg, while the Lambda doors can be specified with a glass thickness between 22mm-54mm, and a maximum sash weight of 230Kg.
The apartments in this development boast an average size of over 3,000sq. ft., unusually large for this part of London and, unsurprisingly, units have sold in record time off-plan and shortly after completion. Buyers are said to include some of the Chelsea FC players, now enjoying the private leisure facilities, including a swimming pool, gym, underground parking and 24 hour security and concierge.
Hueck is one of Europe's largest suppliers of aluminium window, door and façade solutions, specialising in both standard systems, as well as and bespoke applications. The company offers a wide choice of profiles, all of which are designed to integrate with each other. In addition to the Lambda range, Hueck also manufactures the innovative Trigon façade systems, the Volato suite of sliding systems, as well as a range of fire protection systems.
For more information visit www.hueck.com or call 0121 7671344