Improveasy award Swish Home Improvements with Platinum award!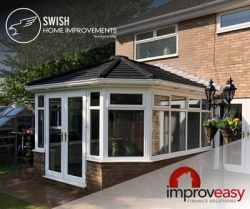 Posted on 13/08/2019
Following a remarkable first 12 months offering finance, Improveasy, the industry's specialist finance provider has awarded Swish Home Improvements with a Platinum award for their exceptional customer service.
The Middlesbrough-firm, which specialises in a full range of home improvements, boasts the highest level of homeowner satisfaction of any Improveasy customer. The team at Swish has just recently secured their 30th consecutive score of 100% during a post-install customer survey.
Conducted by Improveasy, the post-install survey quizzes customers on their overall experience, ensuring customers did not feel pressured or misled and the installer maintained a consistently high level of customer service. This landmark achievement means 10 consecutive customers have all given Swish the maximum score in the three questions they were asked.
Adrian Hicks, Consultant at Improveasy comments: "We're absolutely delighted to share this fantastic achievement and present Swish Home Improvements with our Platinum customer service award. Gareth and the team completed their onboarding last summer and since then have gone from strength to strength.
"They are a great example where an installer has fully embraced flexible finance and is now reaping the benefits. They're an absolute pleasure to work with and set the standard as a forward-thinking installer offering finance and prioritising outstanding customer service. We wish them every success and congratulate them once again on this fantastic achievement."
Gareth Falloon, Managing Director of Swish Home Improvements adds: "We are really proud to win this award and thank both Improveasy and our customers for their continued support. This award is a testament to our great team who all share a passion for quality craftsmanship and customer service. Finance has been a real game-changer for us, and we're delighted customers are responding so positively towards our principled approach."
Improveasy provides installers of all sizes with a full range of point-of-sale finance options including 0% APR and even 'Buy Now Pay Later'. By partnering with Improveasy, businesses can start offering finance within days, avoiding the lengthy and expensive process of becoming FCA approved. Instead, they become an Appointed Representative (AR) of Improveasy and can offer finance under the Improveasy banner or using their own branding.
As the approved FENSA finance partner, Improveasy works exclusively with FENSA members. However, companies that are not currently members can take advantage of a year's free membership when they sign-up with Improveasy.
For more information about Improveasy visit www.improveasy.com or call 0800 024 8505. To find out more about Swish Home Improvements, visit www.swishhome-improvements.co.uk/ or call 01642 232333.