Improveasy smash industry target following record month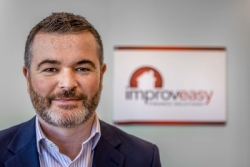 Posted on 16/11/2017
A company that provides installers with finance solutions that they can offer to homeowners has recorded its best-ever month of trading in the glass and glazing sector.
Improveasy Finance Solutions, which is based in Manchester, saw a record-breaking number of enquiries regarding its service in September.
Directors at the company say that they have seen a continued increase in demand from installers, as more consumers use finance options to fund home improvements such as double-glazed windows and conservatories.
Improveasy provides finance across several different markets including glass and glazing, which the company says is one of its fastest growing sectors.
Improveasy's Managing Director Austin Barcley also credits the continuing 'Improve Not Move' trend – which is seeing more and more homeowners investing in their current properties – with boosting his company's enquiry figures:
"September was our best month for both enquiries and for the number of new companies signing up with us. There is a definite trend of many homeowners investing in their properties and this is helping to drive a demand for finance options which can help to fund investments. Following this, it's been our job to raise awareness of our name in the glass and glazing industry, and we have teamed up with a variety of installers, manufacturers and trade associations that are looking to offer finance options to their customers or networks."
Improveasy doesn't just offer finance solutions. Companies that partner with them can also access sales training seminars, alongside a host of innovative finance options.
Furthermore, previous to signing up with Improveasy, companies or installers do not need to be FCA regulated. Once registered with Improveasy, installers become an Appointed Representative (AR) and can then begin offering finance options under either the Improveasy brand or their own company's brand.
Austin concludes: "The appeal of our service lies not only in the financial support we can provide, but also in the training we offer our installers. This training demonstrates how to use Improveasy finance solutions to win more sales and we believe this offers our customers added value.
"Using our service allows SME installers to compete against the more established national brands: now they can offer an additional service to homeowners who might usually choose a local installer over them."
For more information call 0800 024 8505 or visit www.improveasy.com