Survey shows that more than 40% of installers have seen an increase in dome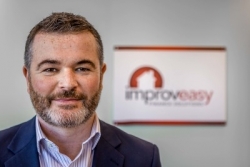 Posted on 07/02/2018
A recent survey carried out by Improveasy has shown that more than 40% of the UK's window and door installers have seen an increase in the number of domestic projects they have completed.
Improveasy – the industry's leading finance provider – teamed up with Insight Data to ask the nation's eleven thousand installers their thoughts on the industry and a wide-range of topics.
The results showed that over 40% had seen an increase in the number of domestic installations they had carried out in 2017, compared to the previous year.
Similarly, a huge 64% of respondents reported that the number of sales leads they received in 2017 was higher than the number they received in the previous year.
Austin Barcley is Improveasy's Managing Director. He comments: "The figures are illuminating and correlate with finance options being used by more and more installers. This is something we've been at the forefront of.
"We're seeing a month on month increase in installers becoming Appointed Representatives with us and helping homeowners to fund or part-fund home improvements with finance."
Austin also says that behind the figures there are some trends emerging when it comes to home improvements.
He comments: "Our network of installer partners often see finance packages being used to support the installation of new windows and doors and there is a growing trend for combining different materials on a single property.
"For example, on a period property timber may be used on the front – retaining character – and aluminium on the back, offering a modern aesthetic and a stunning outlook on to a garden.
"Our solutions can help make these more unusual options affordable."
Improveasy provide installers with finance solutions that they can offer to homeowners.
Companies that partner with them can also access sales training seminars, alongside a host of innovative finance options.
Furthermore, before signing up with Improveasy, companies or installers do not need to be FCA regulated. Once registered with Improveasy, installers become an Appointed Representative (AR) and can then begin offering finance options under either the Improveasy brand or their own company's brand.