Windoormate join forces with Insight Data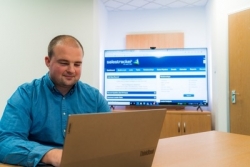 Posted on 17/07/2023
Windoormate, South Wales based window and door manufacturers, have made a significant investment in the future of their company thanks to partnering up with leading data suppliers, Insight Data.
As a nationwide supplier of PVC products, Insight Data will provide the company with real-time prospect data to equip them with the necessary tools and information to help locate the most relevant customers and generate new business.
Windoor Mate's Operations Director, Justin Breakwell, comments: "I'm thrilled to have joined forces with Insight Data. With their real-time industry intelligence, they will play an integral role in our 2023 growth strategy.
"The Insight team were on hand to quickly recognise and respond to our business needs and provide a database specifically tailored to our criteria with commendable efficiency."
The Rhondda based company have acquired Insight Data's fenestration and local builder databases, providing them access to thousands of fabricators, installers, and builders.
In response to this, Aaron Solomon, Insight Data's Sales Manager, gives rise to the power real-time data can have on companies across the industry.
"We've seen first-hand how data can change the fortunes of businesses across the glass and glazing industry. Companies are kept one step ahead with Salestracker, our technology platform, that equips our clients with dynamic data solutions to help target the most relevant prospects and generate new business opportunities.
"We're delighted to welcome another company onboard and support their ambitious growth strategy for 2023."
Insight Data holds details of up to 80,000 decision maker contacts within the glazing and construction industry. Teaming up with Insight Data is a fantastic way to help build a more successful, profitable, and valuable business.
To enhance your decision-making abilities and drive lead generation, please call 01934 808 293 or email hello@insightdata.co.uk