Green Deal opportunity launched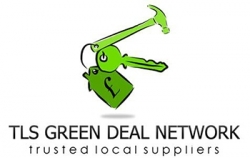 Posted on 31/10/2012
Leads2trade, the company behind the Trusted Local Suppliers Network, has launched its TLS Green Deal Network - providing what has been described as an unmissible and unprecedented opportunity for installers. Already established as the UK's number one provider of double-qualified sales leads, Leads2trade has now teamed up with Green Deal providers and funders to give installers exclusive access to green deal funding.
Exclusive to its Trusted Local Supplier members, TLS Green Deal network is aimed at smaller to medium sized home improvement companies and is currently the only like it in the industry.
Leads2trade's Sales Director Andy Royle says, "First and foremost, installers will be able to become Green Deal approved and acquire the necessary accreditations and on-going training to benefit from this government backed finance scheme and get fast-tracked through the process.
"Network members will also be able to put outstanding quotes, or even leads from other providers, forward for Green Deal funding. So for example if installers have a double glazing quote which the homeowner couldn't initially afford, they will now have the option to qualify it through the TLS Green Deal Network.
"It will then be decided if the work is applicable for funding as part of a Green Deal energy overhaul of the property, whereby the installer carries out the double glazing and other measures such as insulation and a boiler replacement are also undertaken.
"Members of the scheme will also be able to reserve however many postcodes they want to carry out green deal funded work in, with a maximum number of companies able to work in each postcode, as well as having the option to actually buy-in leads that are for homeowners who have qualified for green deal funded work."
But despite being well-publicised, there is still some uncertainty surrounding Green Deal, and a perception that the larger energy providers will be taking much of the work.
The launch of this network will go some way to quashing this perception by providing an information resource for SME installers regarding Green Deal.
A video has also been launched to explain in more detail the mechanics of Green Deal and the benefits of the TLS Green Deal Network.
Andy is keen to stress though, that installers need to get on board quick: "You have to be registered with the TLS Green Deal Network before November 30th 2012. You wil then be given access to gain your PAS 20:30 accreditation by Christmas so that when funds are released in January you and your business will be green deal accredited.go
"Green Deal is going to see homes up and down the country undergoing energy saving improvements and this scheme is providing installers with a route into the work. This is a major network launch which we anticipate will make a big difference."