Powerful benefits package launched to help installers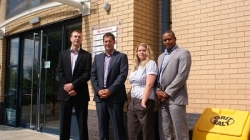 Posted on 24/09/2013
Leads2trade, the company behind the Trusted Local Supplier Network, has once again demonstrated its commitment to helping installers grow their business by launching a new service that gives their members access to a plethora of exclusive benefits.
Leads2trade Benefits Direct is a premium package exclusive to their Trusted Local Supplier network members. It allows them access a range of professional services and business support tools, freeing up time for them to focus on their core business.
Amongst the services on offer are affordable medical cover; fixed price bookkeeping and PAYE; debt management software; HR and employment law support; online merchant service accounts and access to finance options. This will help them kick start projects and add value to their sales presentations to homeowners.
Members can even save on their petrol and diesel bills thanks to a scheme that locks them in at a price per litre at thousands of filling stations, ensuring they are immune to future price hikes.
Andy Royle, who is Director at Leads2trade comments: "Many companies say that they 'add value' and put a premium on service but this can be a vague statement, often without substance to back it up.
"Companies will often send out advice columns and top ten tips – not always that helpful for busy installers without huge marketing budgets.
"Instead we offer them a ready-made business support and marketing package which ensures they don't have to worry about certain parts of running a business and can achieve sales quickly.
"We feel we've put our money where our mouth is, so to speak, with what we offer installers."
Andy comments further: "This is a powerful package because it is essentially a ready-made business framework. Running a business can be a lonely place and often lots of time and effort can be spent dealing with things such as HR, legal advice and bookkeeping.
"This is all taken care of in the package as they have immediate access to these services, so all our members need to worry about is concentrating on the important part of running their business."
Leads2trade generates double-qualified home improvement leads via an 800 strong online network of sites, which fall under the banner of Trusted Local Suppliers. This is where homeowners register to find tradesman to carry out work such as conservatory and double glazing installations.
Recognised as the UK's number one supplier of double qualified sales leads, Leads2trade has recently seen a spike in membership of its service.
Significant investment has also been made in infrastructure and the call centre, ensuring that their members continue to get the highest quality double qualified sales leads and service.