Outdoor living specialists Milwood Group to make big debut at BBSA Show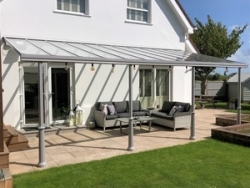 Posted on 13/06/2018
Outdoor living specialists Milwood Group to make big debut at British Blind and Shutter Show 2018
Kent-based Milwood Group, manufacturers of aluminium verandas, canopies and carports have booked their place to exhibit at the British Blind and Shutter Show 2018.
Taking place in October at the Ricoh Arena in Coventry, the exhibition brings together businesses from across the globe to showcase the latest innovations. Milwood Group, which is a member of the British Blind and Shutter Association (BBSA) will be showcasing their Alfresco range of premium verandas on Stand S28.
"We're absolutely delighted to be heading to Coventry to exhibit at such a fantastic event," comments Mark Wood, Managing Director of the Milwood Group. "With the continued shift within the home improvement market towards premium products, there's a fantastic opportunity for businesses to extend their lines with high-end aluminium verandas. We look forward to meeting with visitors and sharing the benefits of our easy-to-install, high-quality aluminium shelter solutions."
Milwood's Alfresco range combines three distinct verandas, designed to match any style of property or consumer taste. Whilst the Traditional Alfresco offers period aesthetics to complement more heritage properties, the Contemporary Alfresco takes advantage of the latest design trends with its sleek, sharp appearance. The Lifestyle Alfresco completes the range, offering a smart, more rounded finish that's suitable for a diverse range of uses.
Available in a range of colours, each veranda can span up to six metres without interruption and can achieve a six-metre reach from the property. All three systems can be enhanced with integrated lighting, wall-mounted heaters and can even be upgraded to a luxury glass-room, creating an enclosed outside space complete with sliding glass panels.
The Alfresco range along with Milwood's complete selection of verandas, canopies and carports are manufactured in the UK to Milwood's bespoke designs. They are available with fast turnarounds thanks to the firm's centrally-located distribution and fulfilment centre in Leicestershire.
Organised by the BBSA for well-over three decades, the British Blind and Shutter Show runs from October 21st through to the 23rd and is free to attend.
For more information call the Milwood Group on 0330 404 9086 or visit www.milwoodgroup.com