Payaca secures prestigious Go:Tech nomination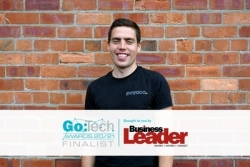 Posted on 08/02/2021
Payaca, the fast-growing software solution for home improvement businesses, has been named a finalist in the prestigious Go:Tech Awards.
The Bristol-based firm has been recognised in the Best Tech Start-up category for its user-friendly software that's helping small businesses boost conversions and make higher-value sales.
The Go:Tech Awards celebrate businesses and entrepreneurs leading the way in technology and innovation around the UK.
After being scrutinised by expert judges from across the tech sector along with hundreds of other entrants, Payaca was one of the select few deemed worthy of being put through to the final.
Payaca is the only software of its kind to combine job management, finance and analytics for home improvement SMEs.
It helps them level the playing field with bigger national firms by giving them the ability to create, send and track professional quotes and invoices, collect e-signatures, calculate profit margins and measure performance analytics, all while integrating with popular accounting platforms like Stripe, Xero and Quickbooks.
The nomination comes as just the latest cause for celebration in what's been an extraordinary year for Payaca.
Despite coronavirus – and lockdown preventing its target market from working - Payaca has had an immensely successful 2020, with hundreds of businesses signing up, immediately realising returns, and seeing conversion rates on quotes increase by over 30%.
"We're absolutely delighted to have been recognised with a Go:Tech Award nomination," comments company founder and director Matt Franklin.
"I started Payaca because I passionately believed we could use the power of tech to make life easier and business more profitable for thousands of amazing home improvement firms around the country.
"These are people who were already doing outstanding work, but didn't have the resources to offer a lot of the sales tools that bigger rivals could.
"Even despite the challenges of the pandemic, we've had a fantastic start as a business, and it's incredibly rewarding to be recognised by experts in the field."