Pure Comms
Tel: 0800 634 4733 | Fax: 0800 634 4711
www.purecomms.co.uk
East End Court
Tickenham Road
Clevedon BS21 6QY

Pure Comms Profile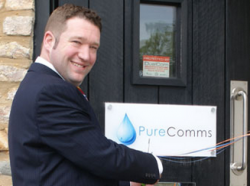 At Pure Comms, we offer a full time, full service telecoms service, keeping businesses in the South West and UK online and on the phone 24/7.
We offer a broad range of phone, internet and network services for all size companies and can help you set up from scratch, move premises or simply upgrade to a new, failsafe telecoms system. We tailor our services to every client – we don't offer 'one size fits all' packages.
With Pure Comms, you don't have to deal with any third-party companies – we even deal with national network providers and have a direct relationship with BT Openreach.
If you're looking for a simple solution to telecoms from a friendly local provider, get in touch with us today. We guarantee 100% uptime, the latest technology and a responsive, reliable service.
---
Categories
The company is listed under the following categories:
Business Services » Telecoms
---
Accreditations
Pure Comms have not provided their accreditations.
---
Brand and Trade Names
Pure Comms have not provided their brand/trade names.
---
Keywords
Pure Comms do not have any listed keywords.
Pure Comms Products and Services
Pure Comms have not listed any of their products.
Pure Comms Downloads
Pure Comms have not provided any of their downloadable files.
Pure Comms Videos
Pure Comms have not provided any YouTube videos.