Choice pays divendends for Pyramid installers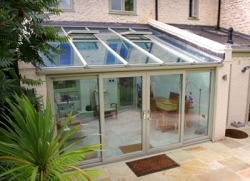 Posted on 31/05/2012
Norwich-based colour-coating specialists Pyramid Windows says that sales of its high-performing coloured windows have increased as more and more installers embrace the choice that is on offer at the East-Anglia based fabricator.
With consumer tastes becoming more adventurous and competition in the retail market fierce, installers are buying into Pyramid's colour-coating expertise in order to boost sales.
Pyramid's Sales Director Ian Cowling elaborates: "The reality is that consumers want choice and lots of it. The market has changed and installers who aren't offering products with added value are losing out on margin and often sales altogether.
"Take colour – for the homeowner white simply isn't exciting enough. They want stylish and eye-catching coloured frames that create a modern and exclusive impression and it's no surprise then that sales of our coloured frames have shot-up over the last year."
Pyramid is well placed to meet the thirst for originality and detail, having invested in two spray booths that can colour frames in any shade available across the RAL spectrum.
Pyramid is one of the few fabricators in the UK to offer this service, and Ian discusses some of the key-points of selling colour-bonded frames in more detail: "One of the advantages of colour coated frames over foils is that the entire frame can be coloured, meaning that when windows are opened the rebate isn't a different shade. This is a significant detail that can help to clinch a deal with a homeowner."
Pyramid offer installers Synseal Synerjy and Shield windows alongside Global conservatory roofs, wide-span roofs, bi-folding doors and vertical sliding sash windows; all of which can be colour bonded in any of the 1,900+ shades available from the RAL spectrum.
Ian concludes: "Naturally we're delighted that sales of coloured frames have risen and we would encourage more installers to come and see the benefits that a touch of colour can have to their business."