Pyramid Launches Burnt Oak Finish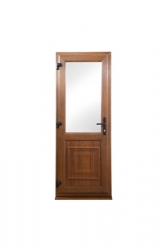 Posted on 18/06/2012
Colour coating experts Pyramid Windows have significantly enhanced their product portfolio and launched a new burnt oak finish which is now available across all window and door frames, trims and door panels. Pyramid's R&D team developed the colour in-house and sales director Ian Cowling is looking forward to introducing the new offering to the companies ever expanding customer base.
"The new burnt oak finish is a very exciting development for our customers," Ian comments. "Not only does it give them access to a new and authentic looking finish, it means they can offer their customers the same colour across their frames, trims and panels for a more consistent look. Quite often when a systems company launch a new foil the exact match is not available via the door panel or trim company, which acts as a sales barrier for the installer. Developing the colour in-house means we can offer the colour matched products consumers are looking for, making it easier for installers to clinch the sale."
The burnt oak finish closely replicates the look of timber and according to Ian can help installers win business in the normally timber dominated conservation areas. "More conservation officers are waking up to the benefit of modern PVC-u windows," Ian explains.
"They recognise PVC-u windows can look wooden but without any of the negative side effects such as rotting, peeling and rattling and are choosing them as the low maintenance and cost effective alternative to timber. The burnt oak finish taps into this lucrative market and means installers can win business at better margins - especially when the new colour is incorporated within our vertical sliding sash window," Ian says.
The burnt oak finish is just one of many colours on offer at Pyramid. Investment in a state-of-the-art colour coating facility means Pyramid can offer Shield and Synergy Synseal windows and doors and Global conservatory roofs in any of the 1,900 RAL colours, as well as any foil in the Synseal Artisan range.