Fireshel helps Shelforce strengthen partnerships with construction clients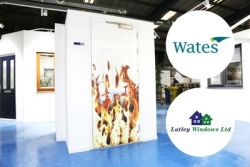 Posted on 13/05/2022
Leading Birmingham window and door manufacturer Shelforce has strengthened relationships with its clients thanks to the continuing success of its fully compliant Fireshel 30-minure fire, smoke and security resistant door.
Since launching the Fireshel in 2020, Shelforce has had to increase its manufacturing capacity from a standing start of 70 fire doors a week – and the likes of construction giant Wates and double glazing and installation company Lutley Windows have strengthened their partnership with them as a result.
The Fireshel is the perfect solution for local authorities who need fully EN tested 3rd Party Accredited, replacement Fire Door sets that are compliant with the latest 2020 MHCLG Annex A recommendations. All Fireshel fire doors have been fire and smoke tested from both the inside and outside and PAS 024 Security tested.
As part of Birmingham City Council's to deliver its flagship responsive repairs and maintenance programme across the city, Wates turned to Shelforce and the Fireshel for a number of high-rise projects.
Andy Brown, Operations Manager of Wates, commented: "Shelforce deliver an excellent service with their Fireshel doors from start to finish and we are continuing with orders as we roll out a wider flat entrance door replacement programme."
Lutley Windows specialise in housing association projects across the West Midlands, and they have been going to Shelforce for the Fireshel for the last year.
Mark Taylor, Lutley Windows MD, commented: "Everything Shelforce do is to the highest spec and their experience in social housing and local authority projects mean they are the perfect partner."
Shelforce's Business manager Howard Trotter said: "At Shelforce we have always been about building lasting relationships with our clients and since launching the Fireshel those have only been strengthened.
"When specifying a fire door solution for any project standards must be met. All fire doors must be third party audited for both fire and security compliance and have third party certification, and it is a legal requirement for fire door manufacturers to provide test evidence and a Field of Application.
"We launched the Fireshel to set the standard for local authorities when it comes to fire doors and sales have exceeded expectations. With almost 35,000 fire doors to replace in Birmingham, it really has proved a game-changer."
Shelforce specialises in providing high-quality PVCu and aluminium products to local authority building projects and employs some of the city's most vulnerable people with 75% of its workforce disabled. For more information, call 0121 603 5262 or visit www.shelforce.com.