CPA team up with industry sales expert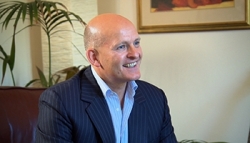 Posted on 20/09/2013
A leading installer support body has teamed up with an industry sales expert, in order to produce a training guide for its installer members.
The Consumer Protection Association is joining forces with Paul Clifton, who runs Window Sales Lab – a sales training and profit mentoring consultancy, to further help its members add value to their sales presentations and win business ahead of their competitors.
Paul is author of a book called 'What Master Salesmen Know that Average Salesmen Don't' and recently judged the 2013 FIT show Sales Professional of the Year Competition.
He is recognised as one of the industry's leading sales gurus and CPA Director Jeremy Brett is delighted that they will be working with him on this guide.
Jeremy comments: "Sales is sometimes seen as a dirty word but without people going out and selling products and services, the economy wouldn't function.
"Undoubtedly the recession has changed approaches to selling; and installers have had to refine their techniques, become more innovative and use a wider range of marketing tools.
"This has also been good for consumers because it has raised standards and empowered them to ensure they are going to get a good deal.
"We already offer a number of valuable services to help our members add value to their sales presentations, such as quarterly assessment reports, marketing material and training and support. Teaming up with Paul is an extension of our commitment to our members and the general public."
The guide will initially be published as a series of articles, focusing on techniques to improve pre and post sales performance and will also contain lots of hints and tips on how to dramatically improve conversion rates and increase profitability.
It will eventually become a full guide, available to all CPA members.
Paul comments: "Day in day out I see the difference sales training and profit planning can make to double glazing companies and have helped countless companies increase their bottom line.
"I work with home improvement companies to improve their sales performance and I also go out in the field and let salesmen watch me sell.
"I know from experience that the CPA work very closely with installers to help them boost sales and I am delighted to have teamed up with them for this series. They work very hard for their members and are the original and best consumer protection organisation."
The CPA have been in business for twenty years and equip installers with Insurance Backed Guarantees, promotional literature, finance and insurance, deposit protection and training and reports to help them stand out when they present themselves to potential customers.
"Our brand and what we do is trusted by consumers and we give installers a powerful first impression and service package. The bottom line is that our members are outperforming this pressurised market," says Jeremy.