Consumer Protection Association
Tel: 01462 850064
CPA House
North Bridge Street
Bedfordshire SG17 5DQ

Click here to view all products
---
Deposit Protection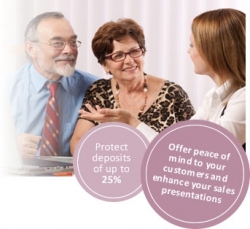 Offer peace of mind to your customers and enhance your sales presentations with Deposit Protection from the Consumer Protection Association.
Our Deposit Protection is insurance for the deposit the consumer pays to secure the work to be carried out on their home.
The insurance covers a deposit of up to 25% of the agreed price or £7,500, whichever is the lesser.
CPA Deposit Protection covers the consumer for up to 90 days from the date they pay their deposit.
We offer Deposit Protection schemes to installers and builders operating in the construction, fenestration and home improvement industries
For more information call us on 01462 850064
Share this product: