Top-of-the-line tremco illbruck tape wins SEH BAC seal of approval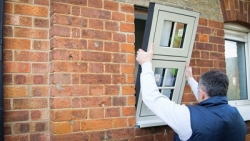 Posted on 26/02/2018
One of the UK's biggest and best installers has given tremco illbruck's TP650 Trio installation tape the seal of approval.
Multiple G Award-winners SEH BAC, a subsidiary of One Group Construction, recently used the high-performance tape on a high-value refurbishment project for a VIP client – the daughter of Richard Neall, Group Chief Executive of One Group Construction.
Designed and engineered to excel in every respect, TP650 Trio is a pre-compressed, multi-functional polyurethane tape that's impregnated with flame-retardant resin.
The product not only offers outstanding thermal efficiency, air-tightness, and driving rain resistance, but can also significantly boost acoustic insulation – and the experienced SEH installation team were amazed at how quick and easy it was to use.
John Savage, SEH BAC Managing Director, commented: "We were hugely impressed with TP650 Trio. A lot of other non-silicone sealant solutions on the market are flawed. They're incredibly difficult to align, or they crease around corners. Trio has none of these problems – and can be measured and applied in a matter of minutes.
"We look forward to using it on many other installation projects in the future!"
David Naylor, TP650 Trio Product Manager at tremco illbruck commented: "TP650 is the perfect choice for this kind of high-end installation project, and we're delighted that SEH BAC had such a positive experience.
"We're also extremely pleased that Eurocell has now seen the potential in the product, and has made it available in branches across the West Country. If it proves a success, it's likely the product will be rolled-out nationwide.
"If you'd like to learn more about TP650 Trio, or any of our other best-in-class sealant products, give tremco illbruck a call today."
For more information, contact tremco illbruck on 02476 855000 or visit www.tremco-illbruck.com.