Truframe scoop People Development Award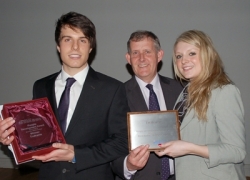 Posted on 30/04/2012
Leading Melton Mowbray based trade fabricator Truframe has scooped the 'People Development Award' at the Melton Times annual business awards.
The award, sponsored by Brooksby Melton College, recognises companies that demonstrate a real and continuing commitment to training – something that is very much a core value at Truframe.
Stan Goddard, Truframe's operations manager, outlines the company's approach regarding staff training and development: "All employees are encouraged to achieve an NVQ qualification at levels 2, 3 or 4, relevant to their job role. This opportunity is offered to all our staff whether they are involved in fabrication, customer service or any other area of the business. We feel that this was the main reason we were deemed worthy winners by the panel of judges."
Patrick Firmager, projects manager at Truframe comments on the good news: "There were a lot of exceptional businesses at the award so to be crowned the winner is a fantastic achievement. Staff development is engrained in the Truframe culture and I'm pleased the judges recognised this commitment."
About 200 guests including Cllr Alison Freer-Jones, Mayor of Melton Mowbray, attended the gala dinner and presentation night at the Pera Conference Centre. "It was a great night and I am delighted Truframe walked away with an award – it will take pride of place at our recently refurbished headquarters!" concludes managing director David Firmager.
Truframe fabricate Liniar and Duraflex uPVC windows and doors from a state-of-the-art manufacturing facility in Melton Mowbray. The company has grown into one of the UK's most successful fabricators offering a combination of quality products, competitive pricing and unrivalled customer service.