Industry veteran to head up Viiu Key Dealer Network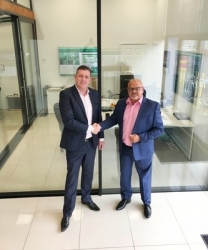 Posted on 24/08/2018
An industry veteran has joined the Viiu team to oversee the firm's trusted network of Key Dealers.
Wayne Maycock worked for one of Europe's leading aluminium systems companies for twelve years before accepting the role of National Key Dealer Network Consultant.
He'll be tasked with managing and expanding Viiu's list of expert installers and ensuring they adhere to the brand's strict quality standards.
"This is a brand-new role – up until recently, most customer contact has been phone and email-based," comments Wayne. "Now, that's going to change – and we're confident it's going to mean we offer clients an even more outstanding level of service.
"I'll also be using my extensive contacts and experience to seek out new revenue streams while consolidating our position with our existing customers and promoting the benefits of becoming a Viiu Key Dealer.
"When you choose Viiu, you don't just get an outstanding product. Our Key Dealers get a comprehensive package – including extensive training, sales and marketing support, and more.
"It's an approach that treats customers as valued trade partners, not just sources of income.
"But we ask something of our Key Dealers in return. We expect them to uphold a strict code of conduct. That means no pushy sales tactics, reliable service, politeness and honest communication from initial enquiry right through to installation.
"If you're interested in finding out more, don't hesitate to get in touch!"
Rod Tate, Viiu Sales Director, comments: "We're delighted to be welcoming someone with Wayne's considerable experience to the team. With his support, I've got no doubt that the Viiu brand will continue to go from strength to strength, and that, before long, our Key Dealer network will have national coverage."
For more information call Viiu Ltd on 0800 877 0077 or visit www.viiu.co.uk