New brochure brings leads for Viiu Key Dealers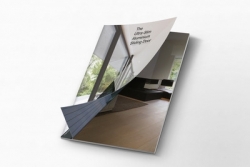 Posted on 15/11/2018
A stylish new brochure is helping customers of G Award-nominated ultra-slim sliding door brand Viiu make sales and grow their businesses.
Launched just last year, the stunning Viiu door has already taken the market by storm with its floor-to-ceiling aesthetics, flawless functionality and PAS24-2016-accredited security.
But Viiu is more than just a door. It's a comprehensive package designed to help discerning companies sell - and the new brochure is the latest tool in that arsenal, as Sales Director Rod Tate explains.
"We want to arm our Key Dealers with everything they need to make the most of this fantastic product. That means quality point of sales material, showroom packages, a national marketing campaign, and now a stylish brochure.
"Filled with stunning photography, the brochure seeks to explain the many benefits of Viiu to end-users in clear, jargon-free language, and we're confident it will quickly become one of the most popular and effective sales tools we offer."
Viiu Key Dealers also receive extensive training and geographical exclusivity in their area.
The Viiu door boasts ultra-slim sightlines, secure laminated glass throughout and an ingenious, unobtrusive design. Viiu's outer-frame is entirely built into the façade, giving it the appearance of an uninterrupted wall of glass.
A patented adjustable interlock section allows perfect alignment to maximise performance and aesthetics - and was robust enough to make Viiu the UK's first PAS24-2016-accredited ultra-slim sliding door.
What's more, a motorised option is also available – and its drive gear is discreetly housed in the unit's 100mm head profile, which itself is hidden behind the building's façade.
For more information call Viiu Ltd on 0800 877 0077 or visit www.viiu.co.uk