An XtremeDoor for extreme weather conditions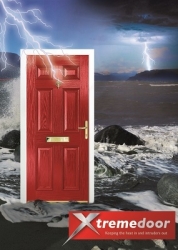 Posted on 13/02/2014
With many parts of the country being severely affected by bouts of extreme weather, UK homeowners are acutely aware of the need to protect their properties from the elements.
Many are in the process of weather proofing their homes and products that can withstand harsh conditions have seen a surge in sales. One such product is XtremeDoor, the new high performance composite door from Vista. XtremeDoor has been designed to withstand extreme weather conditions and, as the UK is hit with major floods and 100mph winds, Vista has reported a surge in demand for this high performance composite door.
Managing director Keith Sadler commented: "Many UK homes have been affected by the terrible weather, particularly in areas such as the Somerset levels where there has been terrible flooding, and consumers are more aware than ever of the need to weather proof their homes. With this in mind it's no surprise products such as XtremeDoor are proving more popular than ever. With its triple sealed outerframe and uPVC edgeband, XtremeDoor is very effective at keeping the worst of the British weather at bay."
XtremeDoor can achieve a U-value of 0.8 W/m²K in some styles, but premium weather proofing is just the tip of the iceberg. The product has a five point lock, consisting of two hooks and three deadbolts, and has exceeded standards set by Secured by Design. It also has stainless steel hardware that comes with a 25 year guarantee, a three way adjustable hinge and is available in a host of colours.