Agricultural barn converted into energy efficient home with Spectus PVC-U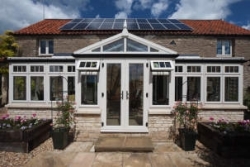 Posted on 30/07/2012
Energy saving measures, including new windows, reduce fuel bills by 50%.
When Terry Cook decided to upgrade her converted barn at Barbers Hill Farm, Stamford, the plan was to make it as comfortable and aesthetically pleasing as possible while ensuring it was both eco-friendly and energy efficient.
Key to this was getting the right windows fitted and although Terry knew that PVC-U profiles offered better thermal efficiency, she thought the material was inappropriate for an older building and set her sights instead on timber or aluminium. However, Somerset-based fabricator and installer, tradeframes.com, advised Terry to view Spectus Window Systems' Elite 70 PVC-U profile which had been fitted at a luxury home close to where she lived and, impressed by how authentic it looked, she decided it would be ideal for her own renovations.
Terry explains: "We had single glazed windows in the conversion for years and they didn't provide adequate insulation and weren't energy efficient, so double glazing was the obvious choice when we decided to get new windows fitted. At first, I wouldn't even look at PVC-U windows because I preferred the appearance of timber and aluminium, however, having considered all the benefits of PVC-U including how good it could look with the right foils, I became more open minded. So much so in fact that we now have Spectus' Elite 70 profile fitted throughout the house.
When Terry bought the farm property she lived in the house at the front while using the barn for her furniture business. However in the early 90's she decided to convert the 3000 sq ft barn into a home. In 2011 it needed new windows and doors and a new conservatory was also planned.
Terry chose Spectus PVC-U profiles for the conservatory to match the windows and to ensure the project was cost-effective. She continues: "We chose our accessories well and the door handles and hinges all complement the conservatory design; it looks amazing. My husband and I are delighted not only with how fantastic the windows look but also their energy efficiency and the difference they make to our fuel bills, which have halved. We couldn't be happier!" To ensure the windows complemented the property's classic look, an Ovolo profile was chosen with cream white foils on the outside and black foils on the inside for an authentic wood effect. The house was fitted with five sets of French doors and eight casement windows while the conservatory featured two French doors and 20 top opening casement windows above 20 dummy vertical sashes.
With its multi-chambered profile for increased thermal efficiency, Spectus Elite 70 is able to achieve a window energy rating (WER) of band 'A' with an appropriate glass unit. Also excellent whole window U-Values, as low as 0.8W/(m2K), can be achieved. The thermal efficient windows now complement other energy saving measures installed in the home such as increased wall insulation, solar panels, new boiler and reflector material for radiators.
Sales director at tradeframes.com, Graham Raywood said: "I recommended Elite 70 because its design was sympathetic to the old barn style. We were able to get the profile in Ovolo, which looks more traditional than the Bevelled profile and, with its softer edges, suits older properties. In addition, Spectus offers a wide choice of coloured foils; we had over 60 to choose from to ensure the windows blended well with the stone. The end result is breathtaking - it looks simply fantastic."
Joanna Plane, Marketing Manager at Spectus comments: "We're witnessing an upsurge in the use of PVC-U in such projects due to its obvious plus points. Homeowners are looking for new ways to improve their properties - both for comfort and to add value in the stagnant housing market. With new legislation on the horizon in the form of The Green Deal, homeowners will be looking to projects such as Barbers Hill Farm for inspiration, and fabricators and installers can really capitalise on this opportunity.