Spectus boosts portfolio with addition of Cavity Closers with EPS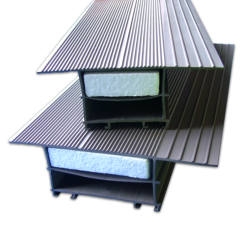 Posted on 07/08/2012
Leading profile manufacturer, Spectus Window Systems, has introduced cavity closers with expanded polystyrene (EPS), which offer the thermal and energy efficiency performance required for compliance with Part L of the Building Regulations.
Available in 75mm and 100mm, the PVC-U cavity closers, with pre-installed polystyrene insulation cores, are set to save fabricators the time, money and effort previously spent ordering the EPS separately and adding it in a secondary process.
Made from its recycled Ecospec profile, with co-extruded PVC-U upstands, Spectus' insulated cavity closers provide a rigid and accurate window aperture that helps ensure compliance with Part L of the Building Regulations, which state a cavity closer must have a minimum thermal resistance path of no less than 0.45m2K/W.
Spectus' product manager, Chris Ross said: "Having listened to feedback, we've introduced cavity closers with EPS to make fabrication time more efficient whilst ensuring that our customers always meet the requirements of Part L of the Building Regulations.
"In addition, as insulation can play a major role in helping builders gain credits under the Code for Sustainable Homes, our cavity closers with EPS are the perfect choice for new build projects."
Spectus' cavity closers are Ecospec products made from recycled PVC-U windows and PVC-U waste from the manufacturing process. Ecospec products meet the same high performance criteria as other PVC-U products but minimise environmental impact by reducing the requirement for new PVC-U and therefore reducing oil consumption and carbon emissions.